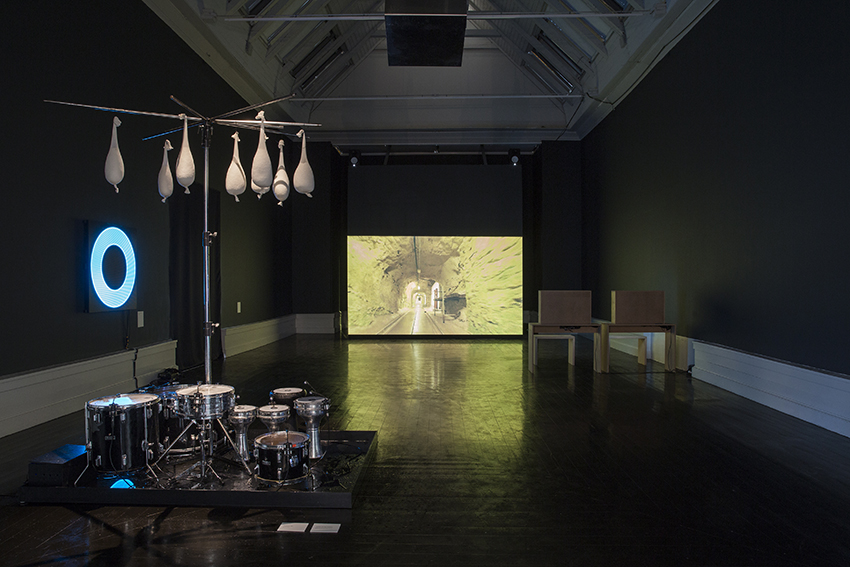 Random Composition. Carl Nielsen & Anne Marie Carl Nielsens REward, Den Frie Centre of Contemporary Art 2016. Foto Lior Silberstein.
Drums, pvc vessel, tripot, hanging moisture absorbing bags.
Random Composition by Hanne Nielsen and Birgit Johnsen
pays tribute to avant-garde composers working with random or aleatoric strategies in music, such as Marcel Duchamp ('Erratum Musical', 1913) John Cage ('Music of Changes', 1951) or Nam June Paik ('Random Access Music, 1963). These dada- and neodada-artists
not only extended wellknown composition strategies, often in a playful manner.
They also tried to obtain a spectrum of sounds exceeding the canon of conventional instruments.
In Random Composition the instruments are of course conventional drums. The performers, however, are a number of simple humidity bags, absorbing the humidity in the performance room and dripping their composition on the drums. The music, so to speak, is thereby reflecting the relative humidity of their immediate environment.
Another great dada-composer, Erik Satie, is known to be the grandfather of ambient music, Brian Eno later, in the late seventies, becoming the father.
In his famous 'Musique d'Ameublement' from 1920 Satie composed small pieces to create different moods or atmospheres for different rooms and for different purposes: at lunch, at the office, at a proposal for marriage etc. The pieces were supposed to be played as long as required: until she accepted the proposal.
In Random Composition it is the opposite way round: here the very ambience of the room itself creates the composition, thus reflecting the atmosphere, the special quality, the mood, the air or the very tone of the room. The pieces will be played as fast and as long as it takes to absorb the humidity in the actual environment, which will differ from room to room, from country to country.
Ambience is also a term used when recording music. Signals from microphones placed different places in a room are mixed together with the musical work in order to record the actual ambience: the sound or timbre of the room, to make the music become more organic and textural.
Random Composition very elegantly operates with these different layers and interpretations of aleatoric ambient music in a very playful manner. The dripping humidity bags are indeed becoming more and more organic and textural during the performance, reminding most of all of milky breasts.
Karin Petersen, Dept. of Aesthetics and Culture, Aarhus University.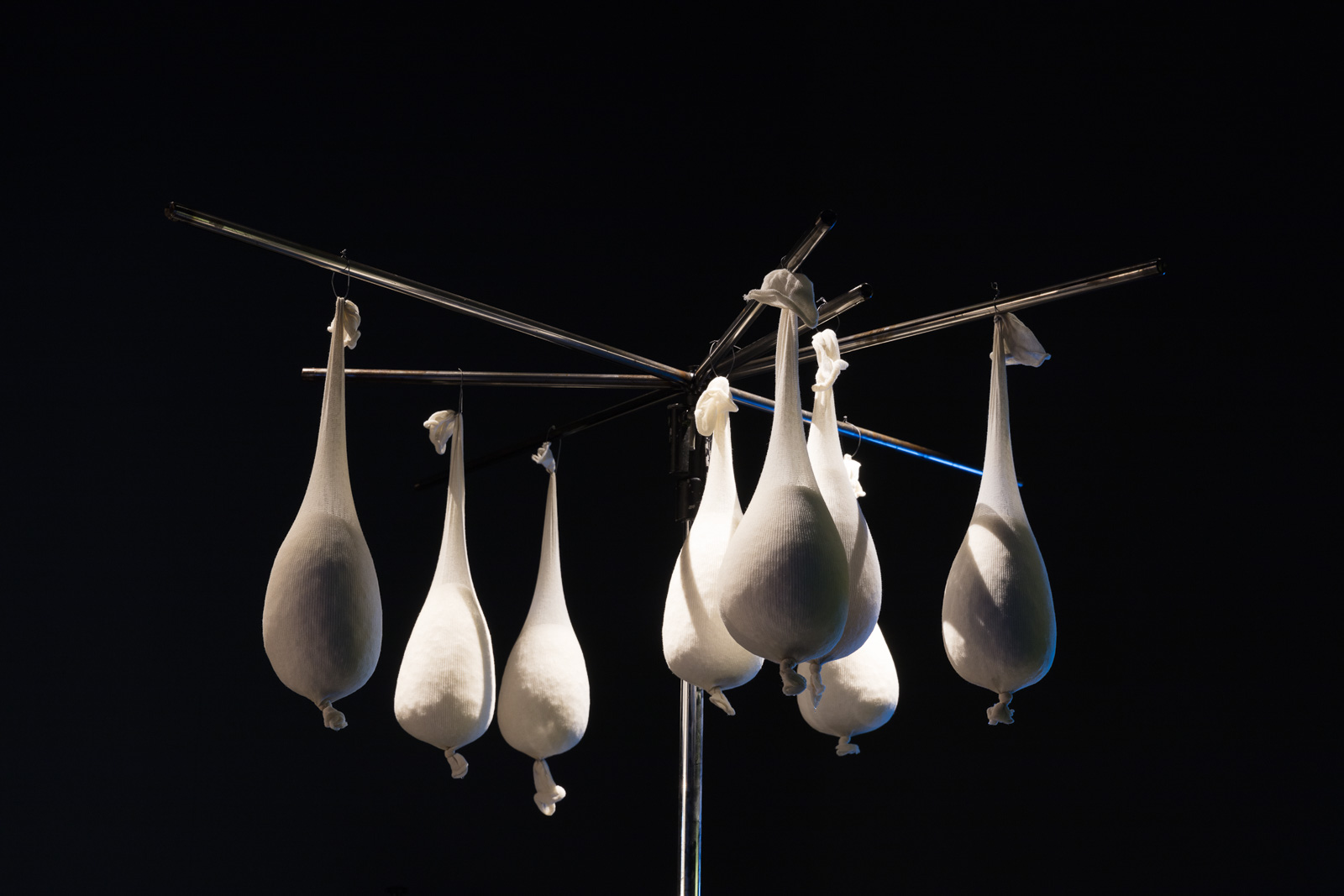 Foto Torben Eskerod.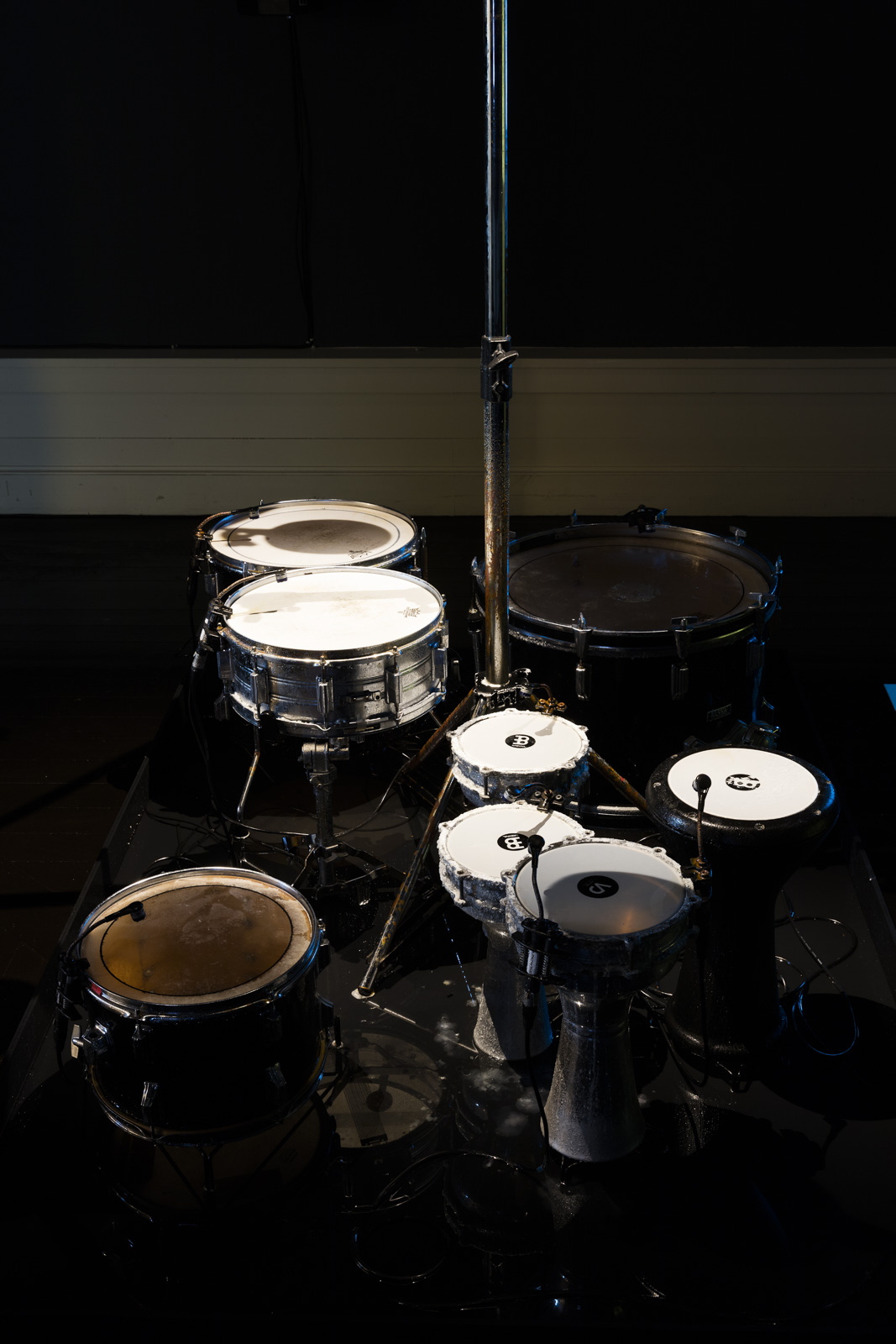 Foto Torben Eskerod.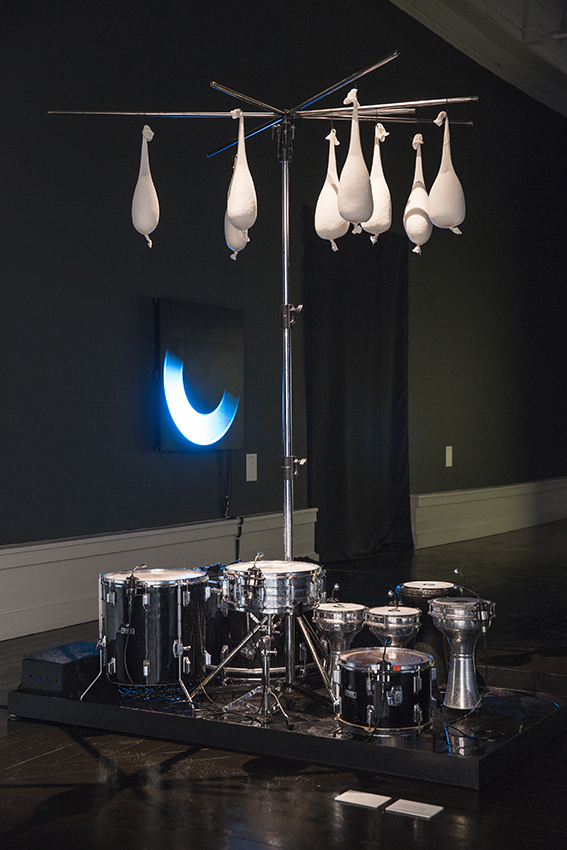 Foto Lior Silberstein.