Video: Extract and in the end installation view from the exhibition Leerräume - Nothing but Space. hARTwareprojecte, Dortmund.
Grenåvej/ Greenaaroad.
Looping. 1998.The vertical and the horizontal are respectively confronted in fiction and in reality. The absence of action and sound in the pictures of the vertical panning make space for the thought, while the presence in the traffic sequence creates action.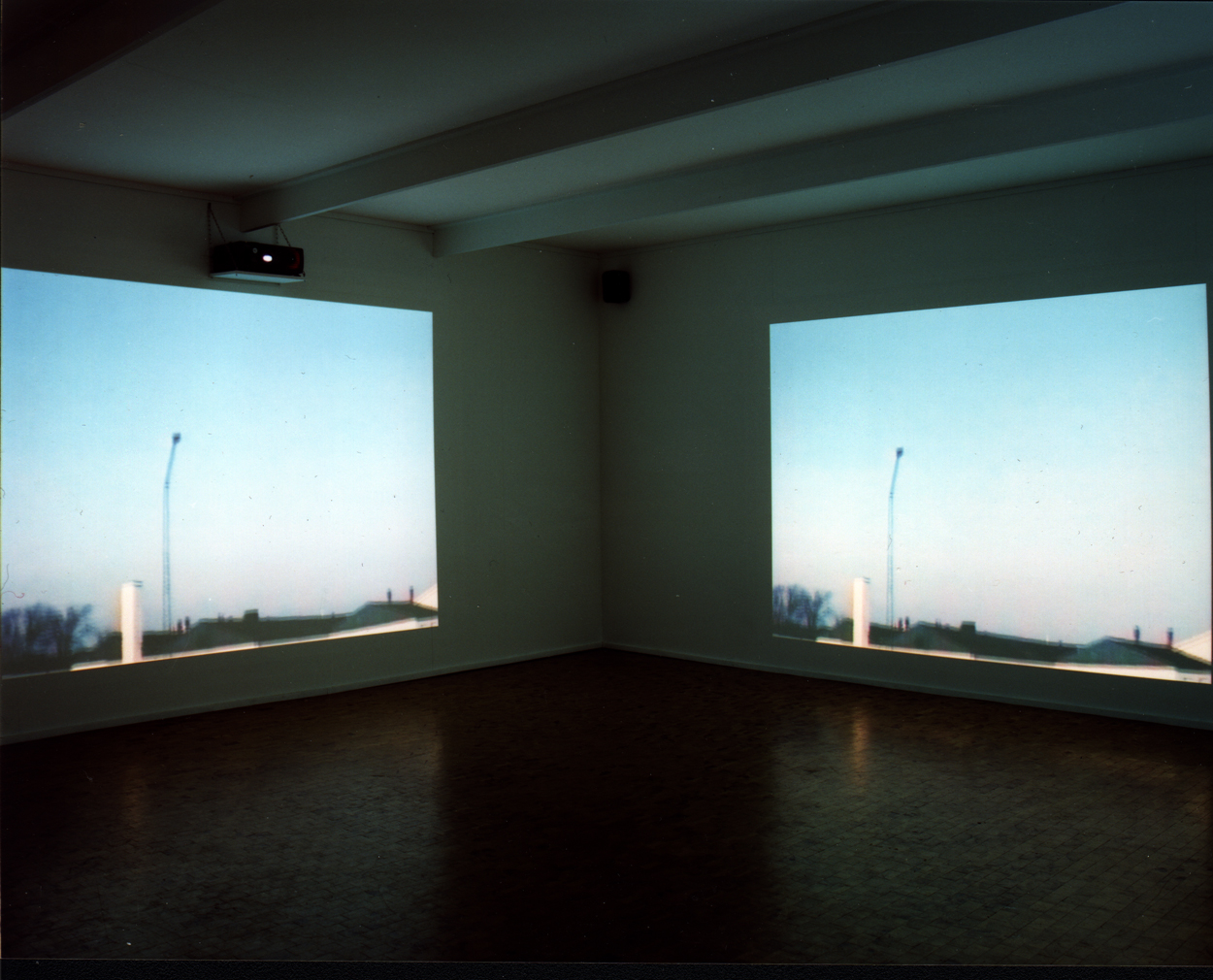 Leerräume - Nothing but Space. DASA, hARTwareprojecte, Dortmund, Germany 1998.
Text by Catsoe Roberts
Grenåvej / Grenaaroad, by Hanne Nielsen & Birgit Johnsen, presents a space that is delineated by the body of the camera-holding artist. The camera functions as an extending eye, moving within a prescribed trajectory; from the ground directly below the camera, it stretches to the farthest visual reaches of a deep, blue sky. The view steadily glides up and down in silence except for a regular interruption at the point where the camera reaches eye level and rests on the horizontal axis of a road. At this moment, the meditative calm of the camera's gentle rhythm is pierced by the screeching sound of speeding traffic slashing a horizontalline across the image. Ten seconds later, thecamera resumes its silent journey either upward or downward.
The way in which the camera is locked into avertical path is reminiscent of Michael Snow's 1968- 69 perpetual motion film <--->, where the camera, mounted onto a stop arm device, confines the image to a strict horizontal path for 52 minutes. Yet in Grenaaroad, continuous real time is not presented. Because the work is shown as a loop, it precludes any unexpected action to penetrate the image, such as the occasional passer-by ambling through Snow's film, for example. Yet, despite the predictability of Grenaaroad, the spectator is repeatedly assaulted by the sudden outburst of sound everytime the camera reaches the horizontal axis of the road. Eventually, however, the spectator succumbs to the pattern of interruption, and is pulled into a cycle of waiting and anticipation.
Camera and concept: Birgit Johnsen and Hanne Nielsen
Technical and sound ass. Lars Kristensen and Peter Roland Jensen.
Produced with support from Aarhus Filmworkshop and the Municipal of Aarhus.
A video by Birgit Johnsen and Hanne Nielsen. Copyright 1995-1998.