Camaraderies – a panoramic video installation, variable.
HD, surround/ stereo 17:34 min, 2007

Camaraderies deals with the panoramic idea as a democratic form and let us choose, where to turn one´s attention to. Camaraderies shows a panorama from urban space. Through a compression of time and action the social and functional characteristics of the place are drawn and made visible.

Camaraderies focus on the public space, where groups and individuals, influenced by clichés and social conventions, must read the codes of each other, trying to mark ownership to the public lane in order to build up own identity and self-understanding.
Time is compressed and individualities and objects are superimposed into the panorama. What normally lasts more days, last here only 17 minutes. Through their presence narratives in all directions arise.
Individuals are confronted groups of different social affiliations. The meth's drinker, the homeless, the bag lady, the bottle collector are put opposite the group with baby carriages, the motor cycle club, the town planners and the football fans and hooligans. The ultimate dominating positions are present in form of police, demonstrators and helicopter.
Among this minor surreal actions inspired of proverbs and phrases are popping up and they put up questions about the documentary set up and authenticity.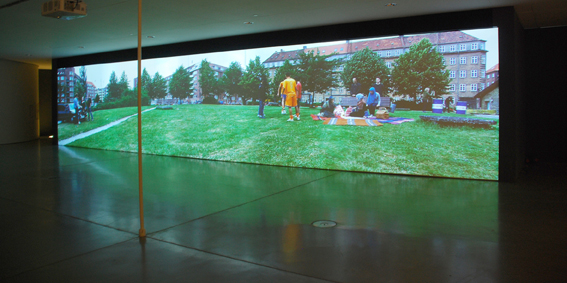 Camaraderies on a 3x14 meter big panorama screen
ARoS, Aarhus Kunstmuseum 2007.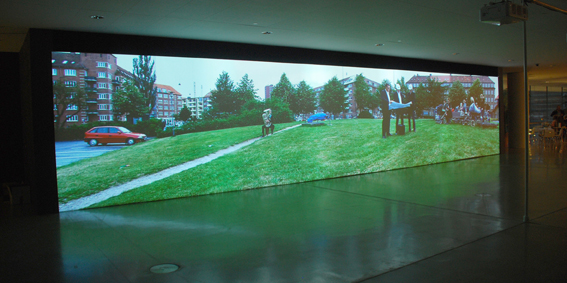 Camaraderies on a 3x14 meter big panorama screen
ARoS, Aarhus Kunstmuseum 2007.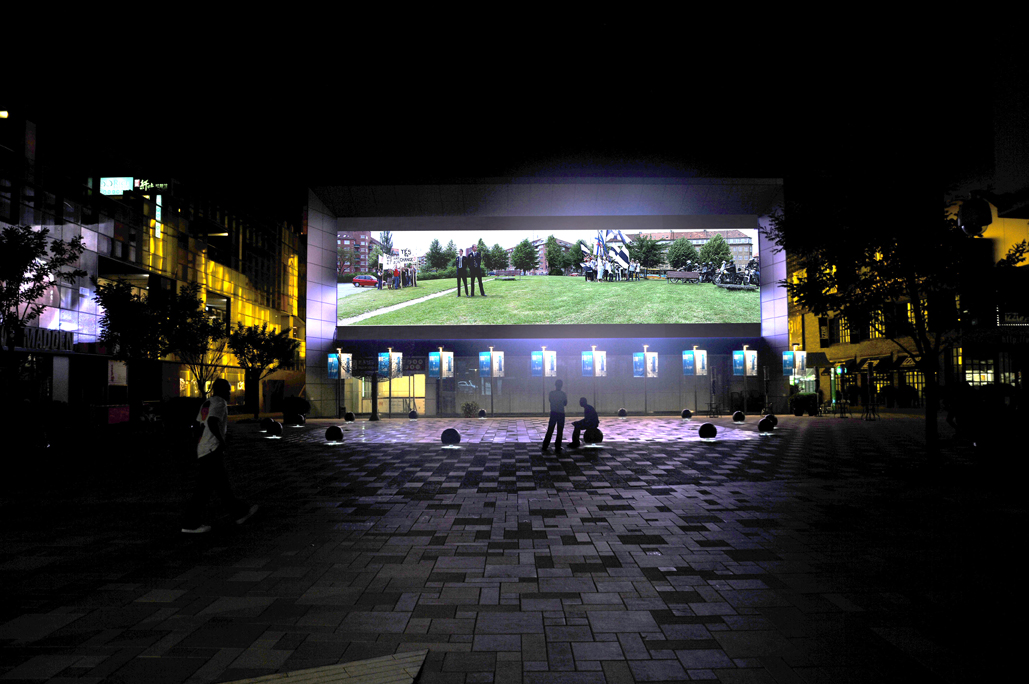 Camaraderies , Notch Festival 09 Beijing, China.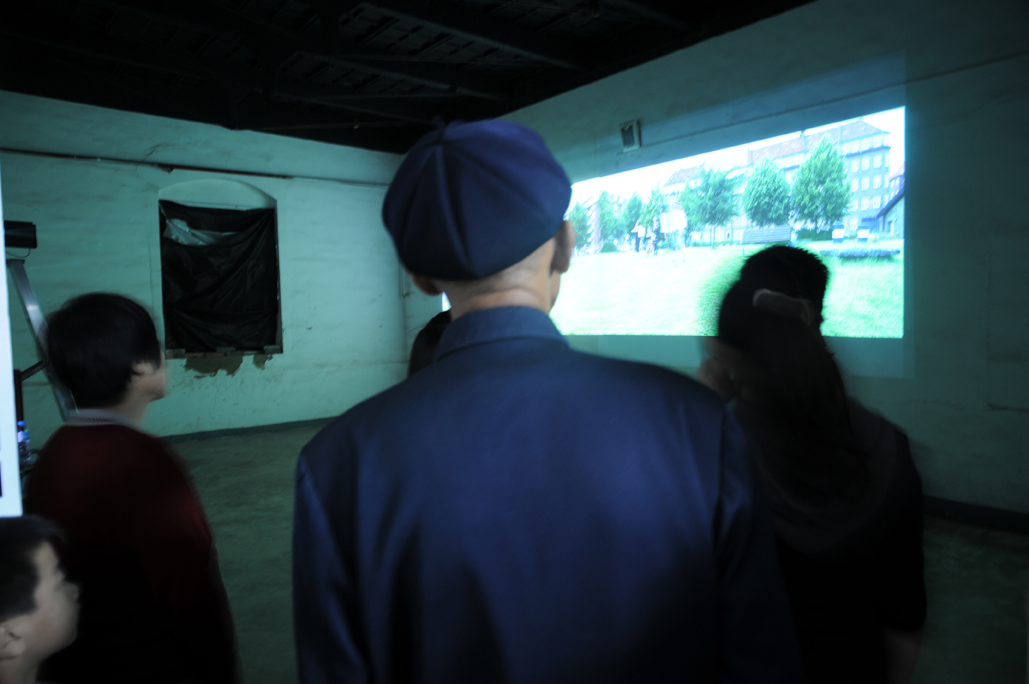 Camaraderies, PIP festival, Pinyao 2009.China.
Idea, concept og instruction: Hanne Nielsen & Birgit Johnsen
Actors: Per Broby Olsen, Karen Johnsen, Johannes Østergaard, Ole Fisker, Ole Møller, Bo Westersøe, Karsten Aaholm, Jens Balder ,Lone Schwennson-Dirk, Anja Hvam, Signe Wirth Nielsen, Sine Jonsson, Ditte Ernst, Dorthe Hansen, Tove Matthiesen, Heidi Østergaard Nielsen, Else Ploug Isaksen, Lotte Nielsen og Markus, Karl Schwendson-Dirks, Vigga Jonson, Asla Adrian, Jakob Rosendahl, Jytte Seested Nielsen, Jakob Halskov Stevnsner, Carsten Thyrsted, Klavs Malte Johansen, Tora Schultz Larsen, Sofie Lykke Gadgaard, Bo Lund, Bente Lynggaard, Stinne Holten Hansen, Line Møller, Walid Mattea, Aziz Mohamed, Kim Nguyuen,Barkho Dico, Mustapha Baddoura, Rachid Talib, Cüneyt Pala, Jacob Vinther, Andreas Øby Kjeldsen, Johan Arve Ahlers Gotfredsen, Simon Torp Littauer, Johan S.S.Larsen, Niels Holk, Mikkel Steentoft Rasmussen, Margaret Svendsen, Mia Lind, Mads og Sofie Agerbæk Joachim Jensen, Kathinka Toft Roelsgaard, Katrine Korfix Nielsen, Simone Bonde Haastrup, Lærke Møller Lyhne, Kia Fisker, Asta, Clara og Martha Aaholm Petersen, Malte R. Poulsen,Jakob Rosendahl,Jan Jensen, Jeanett H. Jensen,Alexander Hjorth Poulsen,Bo Salicath,Kim Andersen,Sisse Larsen,Vibeke Kilian,Jesper Zacho,Lisbeth Preuss, Hårby Slagtehus v/ Niels, Chauffør Frank Juul Nielsen,Benedikte Haastrup,Marianne Fisker ,Karsten Aaholm, Nida Nielsen, Theodor Lien-Iversen, Birthe Østergaard, Per Vinther,arin Petersen, Signe Aare, Erik Jacobsen, Andreas Siersbæk, Malte Andersen, Kathrine Thulin, Nanna Askefrø Bjørn, Mai Jenny Elvheden, Fatih E. Getinalp, Lars Skødt Thomsen, Bent Larsen, Frans Kirk Vittrup, J ens Sønderbæk, Michael Hansen, Peter Knudsen, Anders Vittrup, Keld Viunfeldt, Anders Bonde, Bitten Møller, Jette Thulin, Lasse Bækdahl Nielsen, Henrik Christensen, Karl Holten Hansen, Jenny Lyhne, Susanne Kirkegaard, Franka Broby Olsen, Sara Buch, Marie Gundersen, Birgit Bomberg, Annette Iversen, Marie Ørum Schwennesen, Per Broby Olsen, Oliver Nielsen, Ole Larsen, Ditte Marie Storner, Poul Henning Jensen, Palle Schmidt, Henrik Christensen
Aarhus Parashute Club: Bo S. Andersen, Jesper E. og Michelle Mikkelsen, Allan Stejlborg, Jesper Bay Roed, Kent Mattesen
Dance: The Dance Studio: choreographer Susanne Holm, and the dancers Jon B. Stage, Jais Kleinerman, Malene Arvin,
Tau B. Rosenberg and Stephanie Dalkjær Secher Mohr Thomasen
Music: Telemann : Emile Cantor
Dvorak : The Marselis Quartet, Michael Gottschalck, Todd Cadieux, Erik Søndergaard Jensen, Lise Pehrsoner
Tjaikowskys 4. Symphoni : Hans Andersen.
Studio: Holberg Audio : Jens Holm
Brasch extras: Jakob Rosendahl
Quartet extras: Asla Adrian, Jakob Rosendahl, Jytte Seested Nielsen
Tuba extras: Jens Balder
Trust me, I am a liar : Annasaid
Annasaid : Martin Sahlertz, Jesper Jensen, Johan Sylvest, Simon Vester
Studio: Safelanding Studio : Ole Gundahl
H.E.X.X. : Martin Allin Strandgaard
Projectcoordinator: Karin Åholm Petersen
Photographer: Jan Rüsz

Camera assistent: Rikke Skov Jensen
Light: Keith Jones, Lars Sønderskov Sørensen, Carsten Meinhardt
Runner: Lasse Bækdal Nielsen
Crew : Franka Broby Olsen, Sara Buch, Marie Gundersen, Birgit Bomberg
Marie Ørum Schwennesen, Annette Iversen, Per Broby Olsen, Oliver Nielsen, Ole Larsen, Ditte Marie Storner
Still photographer: Rikke Skov Jensen
Edit: Hanne Nielsen og Birgit Johnsen
Sound: Aslak Mildht
Technical Support: Ulrik Lyhne
Thanks to: Åby Gallerne, AGF's Fanklub, Hårby Slagtehus, Børges Bilvæksted og Forsvarets Mediecenter
Sponsors: Calamus, Medietek, R.Riisfort A/S, XL-BYG Aaby Tømmer, Hans Schourup AS
Organizers: Århus Filmværksted, Filuren, Aros Århus Kunst Museum and Århus
Symfoniorkester
The project is supportet by: Århus Festuge
Hanne Nielsen &Birgit Johnsen
copyrigth 2007