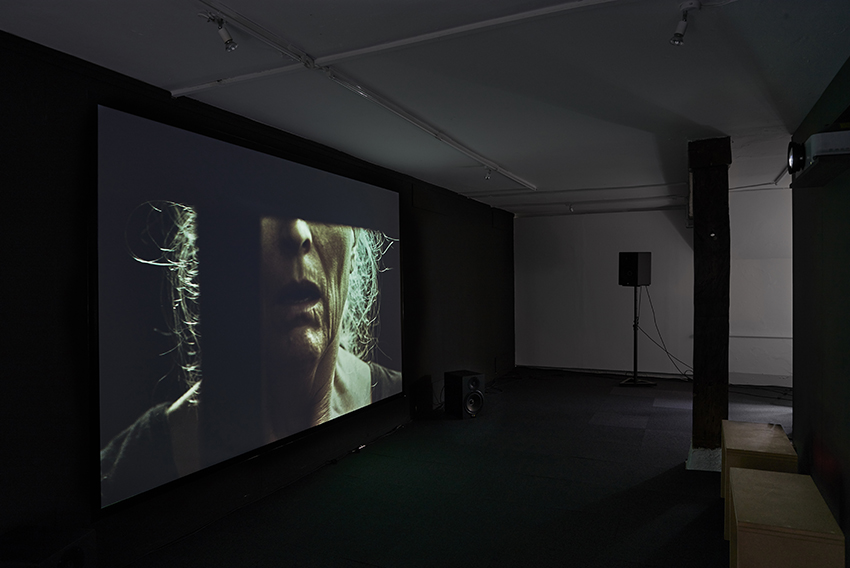 Kind of Noisy Silence. Galleri Image 2017. Foto Gert Skærlund Andersen.
Kind of Noisy Silence
10:35 min.
The video installation KIND OF NOISY SILENCE features a choral work, where the notes have been exchanged for silence and gasps and where the movements are delivered solely through intensely held breath, where the choirnormallywould sing the texts.
The work places itself within the tradition of historic avant-garde pieces like John Cage's iconic 4:33. As such it is an affect-creating work, which we immediately recognize the breath with our own bodies. The choir gasps in unison and polyphonic chorus and recede into the silence of the pause, in one gliding, fragmented movement. The choir gasps in concentration and follows only the conductor. The strained facial expression that one might think was instructed comes solely from concentration
. The fear of nothing happening, according to Jean Francois Lyotard constitutes the threshold where we most clearly are faced with the sublime. KIND OF NOISY SILENCE thus translates both the threshold experience of the choir and the viewer into an image of the lonely individual standing in front of an unpredictable and diffuse world.