Position of the Spectator II

Position of the Spectator II is an installation, where a 24 hours long shooting is presented in a loop of 4:15 min. The installation is one of several in situ investigations, where fiction and picture is connected 1:1 to the actual space, linked to its history of the space and to it's the social and political context.
If the spectator is standing in a certain position, the fictive images makes a narrative connected with the outer space.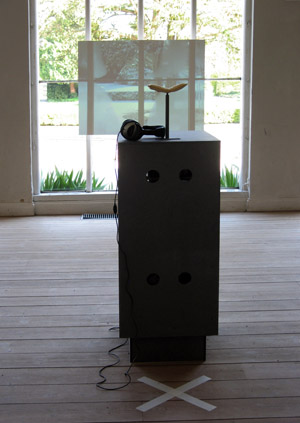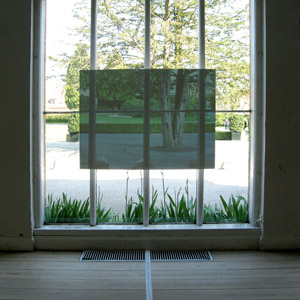 Position of the Spectator II
/ then there was silence, now only peace is remaining.
.
Brøndsalen, Copenhagen 2008. Fotographer Hans Holten
At the exhibition Much could be different….a greeting to Storm P the video "Position of the Spectator II/ then there was silence, now it remains to be peace" is projected at a screen installed in the window. The video sequense has been filmed one day and night through the same window, where it is projected. The 24 hours are compressed to about 5 minutes. Birds, vans and pedestrians are passing. Night is falling, it starts snowing, the moon appears, and at dawn the snow melts, daily life starts and the video starts looping again. The soundtrack tells its own story. You hear sirens, church bells, shouting and barking, which together leads us to remember past riots in Copenhagen. Three meters in front the projection a socket with a bracket to the chin is standing and on the floor is a cross marked.
Standing on the cross you achieve the optimum position according to the work'sintention.The image fits the world outside, fiction fits reality.