Machine-RAUM 2011 13 October - 27 November.
Vejle Kunstmuseum, Spinderihallerne, Bryggen.
MachineRAUM - a festival for video art and digital culture.
Machine-RAUM 2011, an International Festival of Video Art and Digital Culture.
"Choosing another Strategy"
Machine RAUM's vision is to be a platform and meeting place for artists working with video and digital culture.
Theme for this year's festival is Choosing another Strategy and included among several artists, curators from
the world where there is currently very great changes and where the balance of power is changing.
The theme Choosing another Strategy, was an expression of intent for new thinking and openness, and to take
responsibility for a globalized future, and especially art may show alternative ways of looking at things.
The works in the exhibition show this in different ways, in everything from conceptual videos to performative
actions documented on video. Exactly the video has the potential to without being journalistic obligated to put
events in a historical kontext, showing the influence of time and put the events in relation to contemporary issues.
From 13 October to 28 November an exhibition of video art took place at the Vejle Museum of Art and in
Spinderihallerne and in the shopping center BRYGGEN. During three intensive festival days from d 13 to d 15
October you could experience artists talks with participating artists, presentations by invited curators from
Turkey and Egypt, performances in urban space and Spinderihallerne. Again this year presentations by art
academies from Aarhus, the Odense, Hamburg and Kiel attended and gave an insight into how the
academies and the younger artists have their approach to media art.
Curators and project managers are Birgit Johnsen and Hanne Nielsen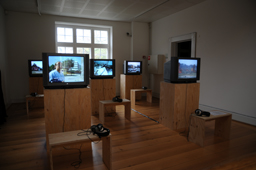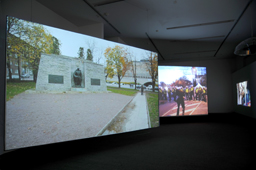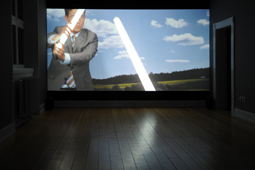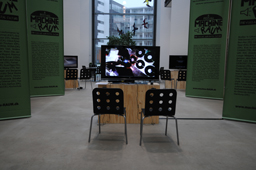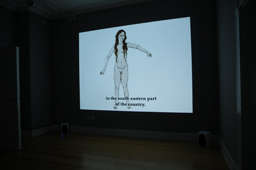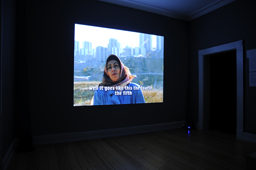 At Vejle Art Museum an exhibition took place with video, video installations and screenings.
From top left: Emanuel Licha/ War Turist. Kristina Norman/ After War. Adel Abidin/ Consumption of War.
In the entrance hall sreeenings programs from the art academies. Below from the left CANAN: ibretnûma/ekemplary and still from Videoists screenings program.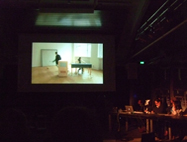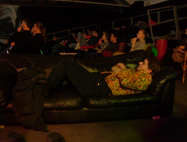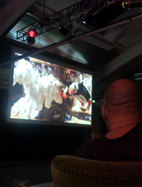 Spinderihallerne provided the framework for the 3 Festival days with presentations of art academy students,
artist talks, and seminar with the invited curators Beral Madra from Turkey and Moataz Nasraldin from Egypt.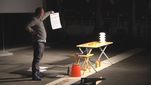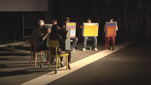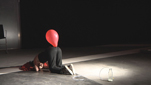 During the festival days performances in Spinderihallerne and urban space took place. From the right;
Claus Ejner, sound og performance groups Krach Kisten Orchestra og SONA.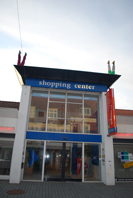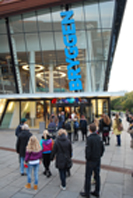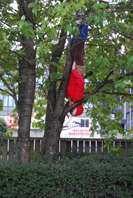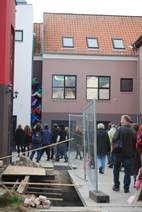 Above :Bodies in Urban Spaces, a in situ performance in urban space with 18 dancers and parcours of the
Austrian choreographer Willi Dorner.