Defense against the Unpredictable.
Videoinstallation på 3 skærme.
HD, engelske undertekster
I en tid, hvor koldkrigstidens fjendebilleder er brudt sammen, undersøger Defense against the unpredictable, med udgangspunkt i relationen mellem individ og storpolitik, hvilke fjendebilleder, der har afløst de gamle.
Den trussel verden står overfor i dag med atomkrig, terrorangreb og menneskeforårsagede forurenings- og naturkatastrofer er ikke den samme, som da koldkrigstidens forsvarsanlæg blev bygget. Her var fjendebilledet entydigt og i høj grad rettet mod Sovjet. Idag har terrorangreb og menneskeskabte forurenings- og naturkatastrofer i højere grad overtaget førerpositionen som katalysatorer for Worst Case Scenarie.
Under den kolde krig kunne man analysere og forstå verden ud fra en kausalitet, og stater og myndigheder havde offentliggjorte og udspecificerede planer for, hvordan individer skulle forholde sig i krigs- og krisesituationer. Nu er fjenden blevet mere abstrakt, stedet for krigs- og terror-handlinger er uforudsigelige. Som individ kan man stille spørgsmål ved om staten overhovedet kan tage vare på den enkelte.
Vi møder på den ene side nogle såkaldte "Preppers", der forbereder sig på forskellige globale katastrofer, hvor al infrastruktur og organisering bryder sammen, hvor el, vandforsyning og mangel på mad bliver altomfattende. Forudsigelserne er mange og spænder for katastrofer, der skyldes ISIS, terror, nukleare angreb, virusudbrud, naturkatastrofer, økonomisk kollaps, EMP ( Electromagnetic pulse) , , vulkanudbrud i Yellow Stone, solstorm mm. Preppers er repræsentanter for individets ultimative mistillid til staten og et behov for at tage situationen i egen hånd af angst for Worst Case Scenario.
Modsat ses øvrighedspersoner, der snakker om konflikthåndtering ved Worst Case Scenarie, og en katastrofehistoriker taler om det uforudsigelige uforudsigelige. På den sidste skærm vises et meditativt kamera-flow gennem lange gange i Stevnsfortet , et forsvarsanlæg fra koldkrigstiden.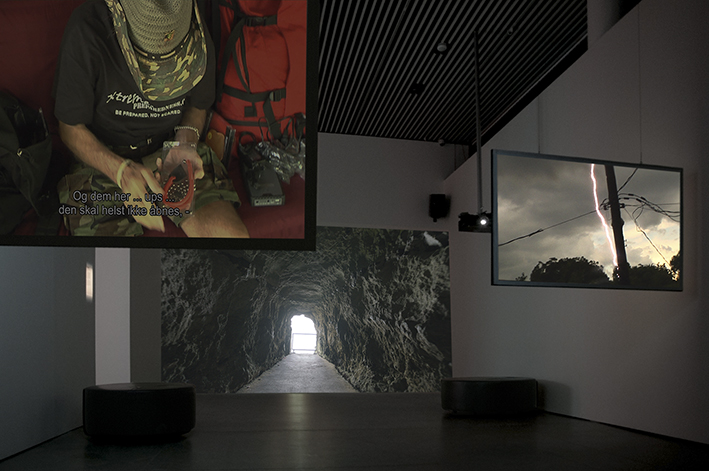 Defense against the unpredictable
Cast
Hugh Simpson / Founder of XtremePreparedness.com
David Epstein /Bioponica
Robert and Roanne Grisworld / Ready Made Recourses & Sunrise Holistic Solutions
Per Reppenhagen Grim / Danish Emergency Management Agency Nukleart
Rasmus Dahlberg / Historian
Aase Schioldan / former Major at Danish Airforce-Guideat Stevnsfortet
Steadycam
Anders Holck Petersen
Photographer
Natascha Thiara Rydvald
Hanne Nielsen & Birgit Johnsen
Production coordinator
Karin Petersen
Edit
Hanne Nielsen & Birgit Johnsen
Soundscape and Sound edit
Søren Bendz
Jacob Ellerup
We also greatfully acknowledge
Duck And Cover / Bert The Turtle Civil Defense Film / Written by Raymond J. Mauer and directed by Anthony Rizzo of Archer Productions.
FAMILY FALLOUT SHELTERS: Nuclear War for Housewives Vintage Film - 1960s American Civil Defense
We wish to thank
Huge Simpson, David Epstein, Robert and Roanne Grisworld ,Per Reppenhagen Grim, Rasmus Dahlberg, Åse Schioldan, Lars Erslev Andersen, Claes Christensen, Martin Jespersen
A special thanks to:
Museum Chief Curator, historian Thomas Tram Pedersen at the Cold War Museum Stevnsfort
Produced with the support from
Statens Kunstfond / Projektstøtteudvalget for Billedkunst
Aarhus Kulturudviklings pulje
A video by
Hanne Nielsen and Birgit Johnsen
@ 2014